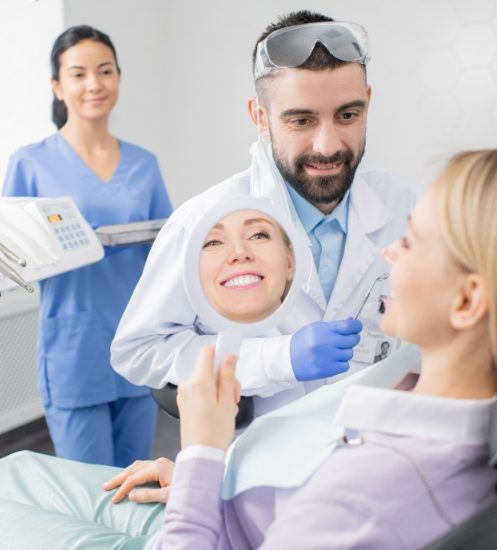 The Best Dental Care in Visakhapatnam.
About Us
Expert Dental Care - With a Personal Touch
Nihira's Dental Care has been providing exceptional dental services for over 10 years in the city of Visakhapatnam. Our dedicated team of doctors provide a wide range of dental procedures, including affordable dental implants, restorative, pediatric, and cosmetic dentistry.
At Nihira's, caring is everything! We ensure that we carry out the most hygienic dental procedures in a sanitized work environment and provide customized dental procedures for each of our patients. We house a dedicated team of experts with state-of-the-art equipment for dental procedures. 
Client Testimonials
What our clients say
I am very scared of dentists. NIHIRA'S DENTAL made me feel so at ease and very comfortable. Both the doctors are very gentle and kind. I have found a dental office that puts the patient first and takes away their fear with their gentleness and kindness for patients.
Priya Jashu
First of all, I want to extend my genuine and sincere thanks to the staff at NIHIRA'S DENTAL CARE under the leadership of Dr. Charishma. You've an incredible team of people who are well knowledgeable and highly experienced. My first ever dental procedure felt like all my worries regarding my problems are gone forever. The procedure was well-managed, timely and affordable
Kelly Coleman
Nulla nec
By far the best dental experience!
I'm usually very nervous at my dental appointments but these guys put me at ease.
The doctors are very friendly and I really like how Dr. Ravichandra pays close attention to his patients and educates them on their treatment in understandable terms.
Philip Mendez
Consectetur
"I am very scared of dentists. NIHIRA'S DENTAL made me feel so at ease and very comfortable. Both the doctors are very gentle and kind. I have found a dental office that puts the patient first and takes away their fear with their gentleness and kindness for patients."
Eugene Freeman
Tincidunt